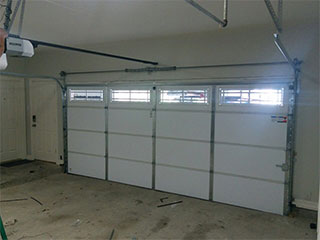 If you have decided to upgrade your garage door and have an opener installed, you have come to the right place. Garage Door Repair Herriman strives to be absolutely certain that your purchase is what you need – and for this reason, our dynamic team has put together a series of tips that are more than useful for those of you searching for a new opener.
If you want to learn more, make sure to read on!
Like most people, you aim to get the most out of your money – and most likely cannot afford spending tons of money on new opener either. In terms of budget, there are at least a few features to take into consideration when it comes to the new opener.
One of them is the type of drive it functions on. For example, chain drive garage door openers are considered to be the cheapest and for this reason are commonly used even if they are the oldest type as well. Belt drive garage door openers are the most expensive ones (but they are considered to be of a high quality too). If you are searching for something with a price that's in between chain and belt, screw drive, jackshaft and direct drive are the options to look into.
Other things that may affect your opener (at least slightly) from the point of view of its price include the amount of horsepower, type of motor, and whether or not you want a remote control or keyless pad to activate and deactivate your door opener.
In general, most of the garage doors will not need more than ½ horsepower when it comes to their openers. However, keep in mind that this is not generally valid and that a larger, heavier door (such as wooden door that's insulated and made in one piece, for example) will need more horsepower (3/4 horsepower, to be more precise).
At the same time, keep in mind the fact that anything that goes even stronger than ¾ horsepower (1 horsepower) is not needed unless you have to install the opener on an industrial garage door. However, if you are in doubt in any way, it is much better to buy an opener that has more horsepower (especially since the difference in price is very small).
Consider if you want an AC or a DC motor. In general, DC motors are considered more expensive than AC ones, but are also more silent as well (because they have a smoother start and stop mechanism that makes everything less noisy). Furthermore, they provide more options when it comes to a power outage too – so even if you are running on a tight budget, consider a DC motor over an AC one.