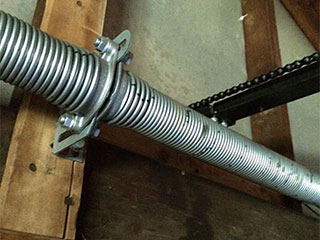 Pushing and Pulling
Extension springs behave like the springs most people think of, stretching and compressing to provide a countering force to the weight of a garage door. The springs need to stretch just the right amount to ensure that the door doesn't move too quickly or too slowly. Worn springs may mean that your opener has a hard time getting the door off the ground, or that there isn't enough countering force to sufficiently slow the door as it closes. A door that closes too quickly can present a hazard to people or vehicles near it. Garage door springs also need to be balanced so that the door wears evenly and doesn't begin to tilt or lean.
Twisting and Turning
Torsion springs use a twisting motion to move, balancing out the garage door so that there isn't too much strain on the opener. Much like a mousetrap, the spring stores mechanical energy called torque when it is stretched apart, and that energy is what helps open the door. These types of springs usually cost more, but you do get what you pay for. They are sturdier and last about twice as long as extension springs, making them an excellent choice for a door that is used often. Torsion springs are also safer, lacking the risk that they will fly apart if they break like an extension spring, despite the fact that there are safety cables in place with extension springs for that very purpose.
Quick, Courteous Service
When you've got a broken spring, you need expert assistance to replace it. Springs are under a lot of pressure and should never be replaced by anyone without the necessary experience to handle them safely. Let the professionals at Garage Door Repair Herriman replace your springs and restore your peace of mind.
Need more? We also provide:
Garage Door Troubleshooting Services
New Opener Remotes & Clickers
Torsion Spring Adjustment