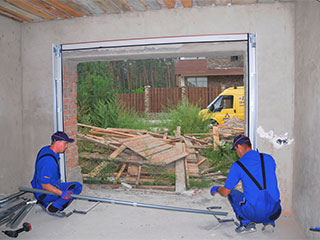 High-Mileage Doors
Your garage door probably gets used at least twice a day everyday. Just like any other piece of machinery that gets used often, your door needs regular maintenance to continue to move freely and safely.
What Could Go Wrong With My Door?
Rust buildup is a big problem and can mean that your door is starting to get hung up in its tracks, which stresses the motor and causes further damage. Rust can also lead to springs that soon become too rigid and fragile to move, causing a broken spring or springs. We are trained to notice the level of wear on your cables, pulleys, rollers, and driver, recommending a replacement if the wear exceeds a certain amount. Doors that weren't properly aligned initially can get worse and worse as time goes on, creating new problems and unevenly distributing the wear on the parts of the door. If your door is being forced up and down while crooked, it can eventually bend the tracks or break the cables, leaving you with a much bigger mess to clean up. Avoid future damage by scheduling regular inspections to correct minor issues before they cause a broken part. Along with a visual inspection, we include minor repairs and worn part replacement with your maintenance checkup. Annual garage door maintenance visits are a big step in preventing damage to a costly and functional piece of your home.
Professional Diagnosis
The experts at Garage Door Repair Herriman are trained in maintenance care to provide you with excellent customer service and 100 percent satisfaction. Scheduling your annual inspection with us is a great way to prevent bumps in the road before they come up. Call now to book an appointment.
But wait, there's more! We also offer:
Garage Door Tune Up Services
Liftmaster Garage Door Openers
Galvanized Torsion Spring Installation
Overhead Door Installation